We are not only looking into a future of remote working, growth in the use of freelancers and a generation of talents that don`t see themselves as 9 to 5 office warriors…we are right in the middle of it!
Most companies are allready in the proces of implementing tools, platforms and work routines accommodating the above scenario, and the forward thinking ones are actively embracing it, and even using it as a competitive factor in attracting talent.
There is no doubt that the technology to support this is available, however the biggest challenge lies in how do we keep our employees involved and engaged in our brand and dna ?
Why engaging employees is key.
The sense of belongingness, involvement, ownership, and the social part of work life, plays a big part for employees – and the better it is, the better the engagement. 
Social media – and in particular businesswise – has made our brand presences ultra transparent, and the perception and definition of who we are, what we do, how we do it is constantly judged by our target groups, whether it`s existing or future colleagues, talents, customers et al. In fact, 76% of UK adults are choosing who to interact with based on reputation (CBI/Porter Novelli/Opinium), and accordingly the report states that;
"Businesses know that their reputation is their lifeblood. After another difficult year for firms, it's great to see evidence that their hard work to support employees and keep the U.K. growing is recognised by the public. Our latest tracker shows an uptick in its reputation from last year. The focus on giving employees a stronger voice whether through employee share ownership or other such schemes, is being well received by the public.
"There is no question that more can be done, as 76% of the public say they would want to work for a business with a good reputation, the benefits of demonstrating firms positive impact can affect everything from a company's bottom line to the talent it attracts.
"Employees are key. They are a company's ambassadors and the public trust their voices and seek them out. So great firms are doing all they can to engage them and help them tell on the ground stories." Josh Hardie, CBI Deputy Director-General
Employee Engagement as a focus area.
So, in the midst of implementing the tech stack needed to operate in a remote work/freelancer environment, in parallel we need to move our employee "engagement stack" into a similar key focus area. Key stakeholders are cross organisational; HR, Communication, Social Media, Marketing, PR/Branding – and management needs to actively endorse the efforts.
To turn employees into active advocates, calls for a strategic approach and a clear and precise value proposition for employees – which is what a structured employee advocacy program can do.
And in doing so, the return on the effort proves itself in several ways – as stipulated by this research from Raddon;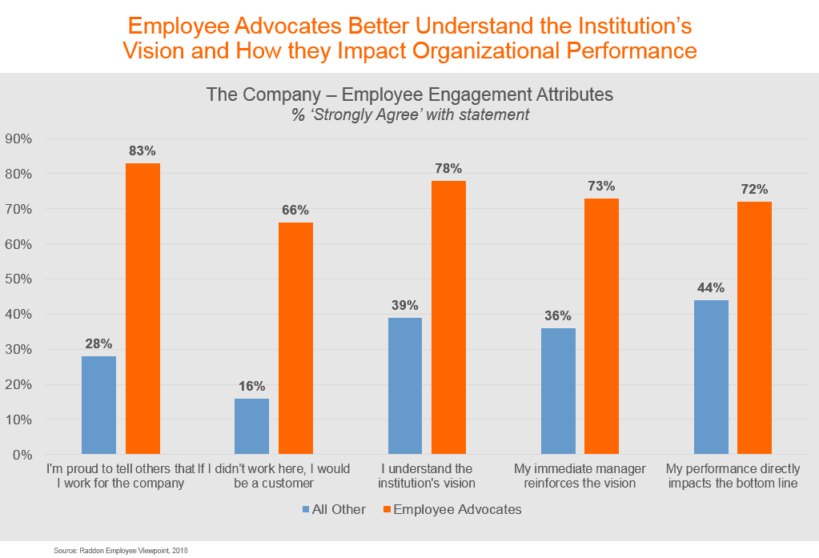 "One of the key drivers of engagement for any employee is their connection to the company and how they feel about their employer.  Employee advocates are nearly three times more likely to tell others that they are proud to work for the company and almost twice as likely to understand the vision of the organization" (link)
How to get started ?
Hopefully, the above has convinced you that "the Why" is no longer in question;-) At Sociuu, we have for the past 6 years helped companies ranging from 50 to +20.000 employees implement and benefit from structured employee advocacy programs.
We offer a platform that seamlessly leverages you existing strategy, channels and content – and most important with a market leading approach to secure high employee engagement.
In addition, we will share all our experience and best practices, enabling you to focus on succeeding in keeping your employees engaged.
Next steps.
We host free webinars in all our European entities, so do feel free to join and meet like minded professionals;-)