Employee Advocacy has been the talk of town in both HR and communications the last few years.
In this blog post we are going to cover exactly what employee advocacy is and why it's important if you want to engage employees, attract future employees and customers or simply multiply your brand's reach on social media.
We will explore the benefits you should expect from running a structured employee advocacy program and dive into how employee engagement correlates with employee advocacy. 
But first, let's start out clarifying what employee advocacy is, and then we will move on to the importance and benefits of employee advocacy.
What is employee advocacy?
Employee Advocacy is the action of employees advocating for your brand.
It comes in many forms and shapes and we focus on social media posting. Here are some examples: 
Sharing of a recruitment posts for a job opening in her / his department
Posting about a company's latest development
Sharing news around the benefits of working at a specific company
Posting company developed content to engage and discuss certain (niche) topic
The content shared in these posts may be the result of an autonomous action from a single employee or from a structured approach.
Both ways will harvest the power of the workforce, increase social reach, ignite and influence discussions with the ultimate goal of attracting future business and employees. 
What are the prerequisites for Employee Advocacy? 
You can't have advocacy if there is nothing to advocate for. Therefore employee engagement is a prerequisite for employee advocacy.
According to a Raddon survey of 50 companies  it was found that employee advocates tend to be more engaged with the brand, be proud of their work, understand the vision and understand how they impact the bottom line.
"One of the key drivers of engagement for any employee is their connection to the company and how they feel about their employer.  Employee advocates are nearly three times more likely to tell others that they are proud to work for the company and almost twice as likely to understand the vision of the organization" (link)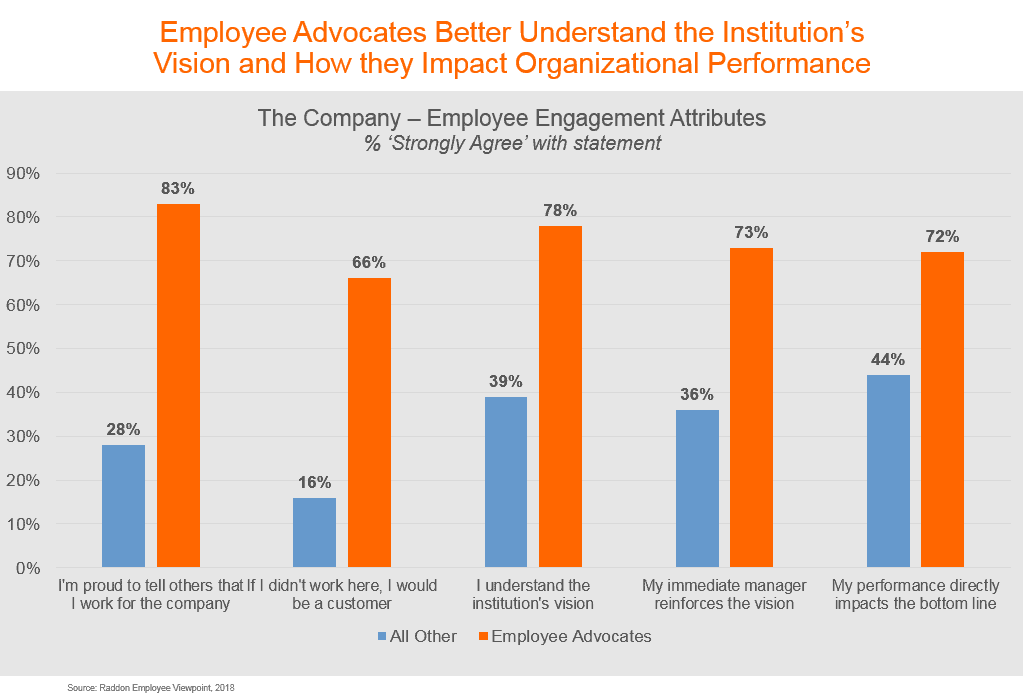 So, if  engaged customers is the foundation to build an advocacy program on, then how do you make employees engage with your brand?
Trust is a two-way relationship. According to Edelmann Trust Barometer trust is an issue in some markets that needs to be addressed prior to running an EA program.

Treat employees as your number one resource.  If your are still running old school brand management involving only the designated small circle of stakeholders, you need to expand to include all employees.
Track your relationship. Set up what you want to measure as a proxy for ongoing relationship status. It could be e.g. engagement ratios over time as seen from the Sociuu Employee Advocacy Platform in addition to the annual survey.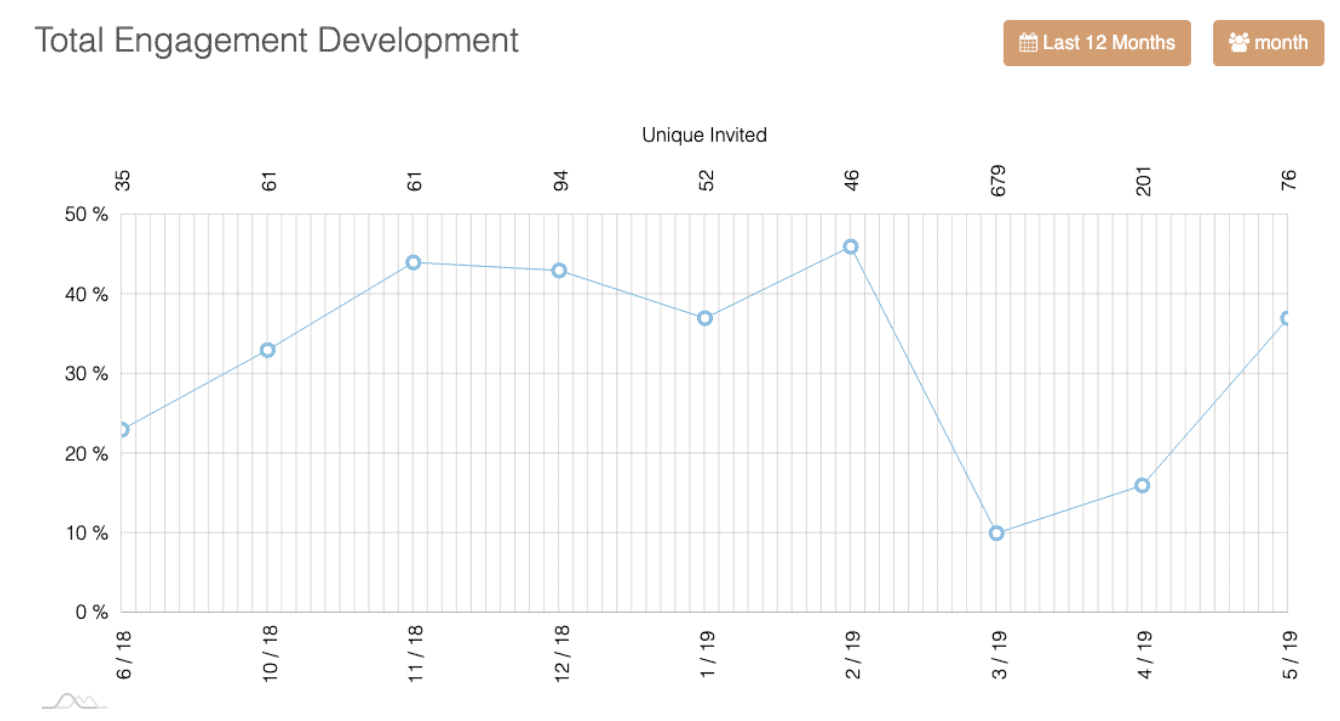 Why does Employee Advocacy Work?
The reason employee advocacy works is highly linked to why it is important. It includes four important stakeholders of running a successful business.
Employees
Customers
Future employees.
Future customers
The main goal is to get the snowball running: Targeted and highly relevant content distribution to selected (engaged / unengaged) employees spurs content sharing. The increased employee engagement drives great customer experiences, which in turn increases interest, from both future customers and future employees.
In this relationship employee advocacy drives both business growth and secure the interest of future employees. Therefore, employee advocacy becomes a viable mean to drive  employer branding.
Why is Employee Advocacy Important?
Now that we know what employee advocacy is and what it builds on, we will dive into why it is important.
Your company DNA must set you apart as your products, your services, your corporate channels, your ads and promotions are not sufficient anymore.
Future customers want to hear, understand and believe in your story – your company DNA. Because in the end, your DNA is exactly what sets you apart from the competition.
Communication has been democratized. Communication and branding has evolved from a central "department" delivered through press releases and TVC's to a dynamic and fluent action happening on all media 24/7.
And if you think that people are more likely to trust a familiar face than a logo, you are probably right. In fact, according to a 2019 study the most trusted voice from a company is a technical expert, and even the regular employee is more trustworthy than the CEO and Board of Directors.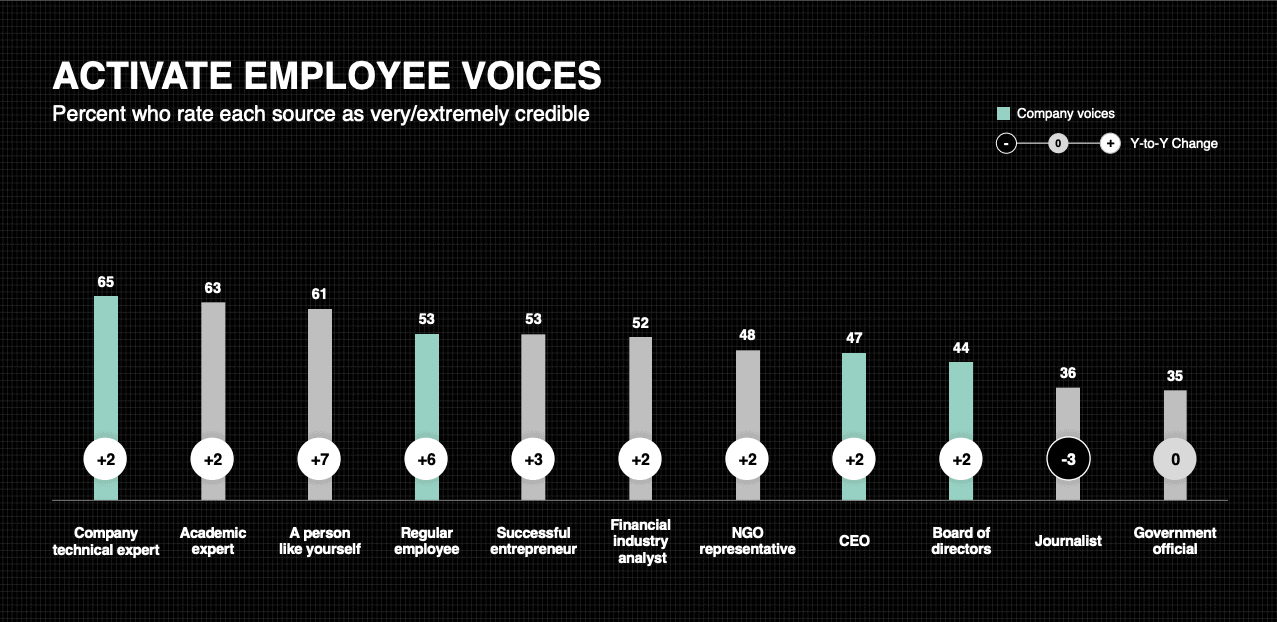 From a corporate perspective it makes sense to create share-worthy content for the workforce to engage with and share with peers and network as they are more trustworthy.  In fact, you should treat employees like customers, with segmented communication and content.
And  if this sounds familiar you are probably already working with communication or marketing. That is also why an employee advocacy platform should be able to answer what types of content is actually driving most engagement, so we can adapt and learn for future work.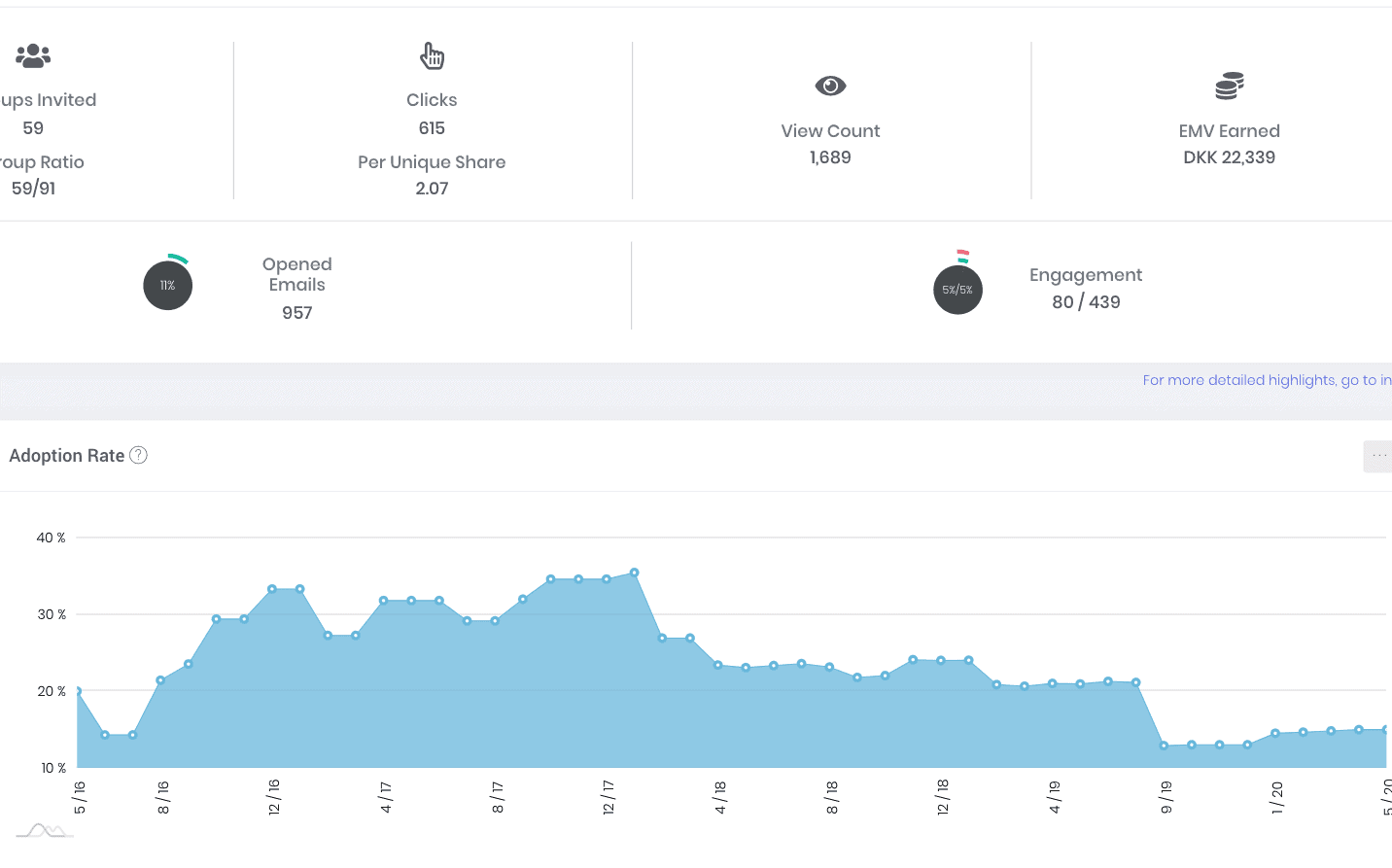 Igniting the brand with increased reach and penetration for targeted audiences, delivered by a person from your network. People are more likely to engage with and share content from someone they trust.
CPM's are increasing. According to Statista CPM's increased of 45% from Q1 2017 to Q1 2019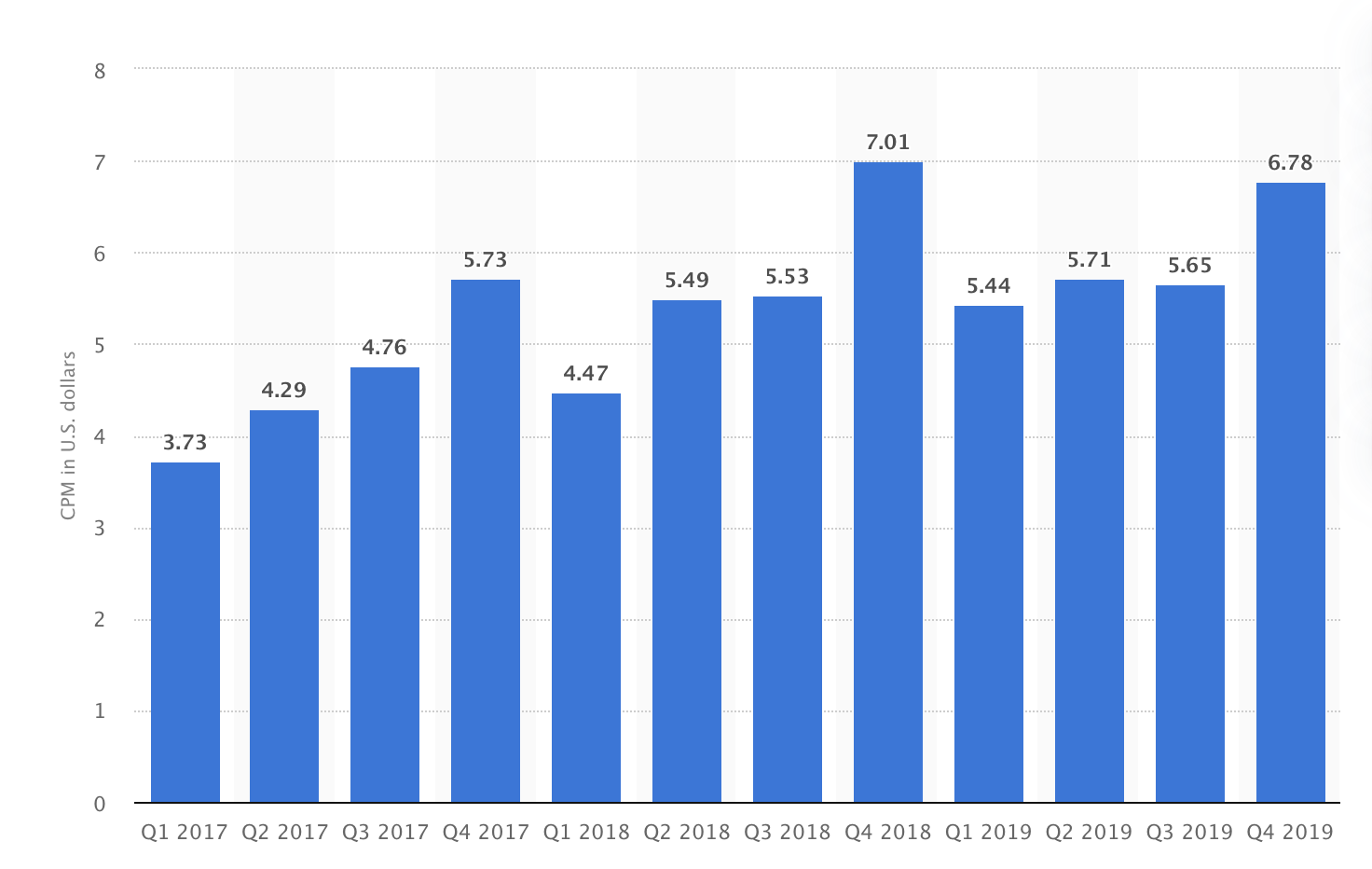 But despite being obvious important, a research study showed that only 17% of companies have a formal Employee Advocacy program in place.

The  same study also found a correlation between the growth of companies with and without formal employee advocacy training, which also underlines the potential and importance of employee advocacy and employee engagement. 

What are the benefits from Employee Advocacy?
Now we know what Employee Advocacy is and why it is important. The next session will deep dive into the benefits of running a structured approach to engage and encourage your workforce.
History takes us from vanity metrics to business impact
First wave of EA adoption was based on metrics similar to social media; get more likes, emojis, followers etc. These where quantitative "vanity metrics", and additionally encouraging employees to hit the share button in chasing the next like.
Basically there is nothing wrong with quantitative metrics, but they should be secondary and not to be included when measuring the effect from a business perspective.
We are well in to the second wave of adoption of EA, and companies are now focusing on the business side of EA that really can make a difference; thought leadership, employee brand engagement, employer branding, talent management in addition to incorporating EA in the customer journey.
According to Hinge, these are the benefits most companies experience from Employee Advocacy:
While only 3,5% of companies still have to see the benefits of Employee Advocacy.
However, from running more than 50 successful employee advocacy programs across industries and markets, we find that employee advocacy has many more benefits to supplement the above list.
Earned media value
Unbranding
Expanded social reach with dark shares
Thought Leadership
Social Selling
Talent attracting (social recruitment)
Employer branding (Segmented sharing of content)
Localization and angling of content to match the audience tone of voice
In addition to the above-mentioned benefits:
79% experience increased visibility

65% Increased brand recognition

45% experienced increased inbound web traffic

33% experienced improved brand loyalty

32% experienced better search engine rankings

29% experienced customers became advocates

24% experienced increased content downloads

20% experienced improved customer service

17% experienced decreased marketing costs

12% experienced higher conversion rates

11% experienced shorter sales cycles
Below are 3 important benefits of EA.
Benefit 1 :Increased Visibility
Go to your LinkedIn company page and identify the follower count and the avg. engagement rate.
You'll most likely have an engagement of 2%.
If your company has 3.000 followers the engagement will be 60 persons.
Now, say your employee count is 500. By activating your employees' network your total reach is augmented from 3.000 followers to (500*300) 150.000. Thats 147.000 additional prospects (business and recruitment) than your company page can bring in organically.
Not everyone will share the content they are asked to. Building on the data from running multiple employee advocacy programs we see an avg. engagement rate of 20% (Engagement rate = Shares after being encouraged to share), but best practice is at 74%.
For now, let's stick with the average of 20% engagement rate.
That's still 100 (20% of 500 employees) engaged employees sharing posts and content with their personal network of 300 connections.
In total thats 30.000 potential impressions (Now imagine being running a best practice setup with 74% engagement).
Benefit 2: Increase in web traffic
From our own Employee Advocacy Benchmark 2020 report we identified that across industries each share by an employee ends with 6,2 clicks. That is likely 6,2 highly relevant visitors to your website, who you now can engage with and start conversations with later on.
If you are interested in more benchmarks you can freely download the report here.
Benefit 3: Earned Media Value (EMV)
In our 2020 Employee Advocacy Benchmark Report we identified several insights:
The average clicks per posts by employees to be 6,2.
Employees will most likely share up to 8 posts per month before engagement declines.
Using these benchmarks, the count of employees in your organization and an average click prices from e.g. LinkedIn advertising we can calculate the Earned Media Value (EMV)
Here's how to calculate a scenario:
500 employees
6 posts per month are being send to employees
Avg. CPC on LinkedIn is 6€
If you were to buy these impressions and clicks you would most likely spend around  €25K / month on e.g. LinkedIn. What you will do with this number is is up to you, but we like to refer this is as the earned media value.
But to be honest, it is also the lost media value if you don't get involved in Employee Advocacy. 
Ready to learn more about employee advocacy – then head on over to our resources